This page is to dedicated to the co-naming of Avenue N and East 15th Street in Midwood, Brooklyn, New York to Benjamin W. Schaeffer Way, in honor of the late Ben Schaeffer (April 27 1962 – April 28 2020). On October 02, 2022, Brooklyn's Community Board 14 voted to approve the co-naming and on February 16, 2023 so did the New York City Council as a whole. The sign has been installed by the New York City Department of Transportation and a co-naming ceremony occured on Sunday, April 30, 2023 at 4 p.m. at Avenue N and East 15th Street in Midwood.
Despite the heavy rain, many of Ben's friends came out to the ceremony. Attendees included East Midwood Jewish Center Rabbi Cantor Sam Levine, Community Board 14 & 70 Precinct Council Member Ed Powell, Council Member Ari Kagan, 70 Precinct Council Member Nathan Thompson, Legislative Director for Council Member Vernikov Troy Olsen, Arthur Miller, Anthony Beckford, Lisa Smid, Ben's mother Harriet, Ben's MTA/TWU colleagues and others. The fact that people came out to honor Ben during such challenging weather demonstrates the mark that his life left on so many.
It was an honor to be able to witness the Street co-naming for my friend Ben Schaeffer. Avenue N and East 15th Street is now Benjamin W. Schaeffer Way. pic.twitter.com/oDcGfJLIr4

— Dr. Anthony Beckford (@AnthonyBNYC) April 30, 2023
As the heavy rain and wind swept across Avenue and at the corner of East 15th Street a small crowd of friends and family honored Ben Schaefer and MTA conductor who died of covid. He was a retired NYPD auxiliary officer and an active member of the midwood Community where he lived. pic.twitter.com/C7S6ZZ0eMo

— Arthur De Gaeta (@gatorbites2002) May 1, 2023
Taking this video of the street naming for Benjamin W .Schaeffer Way , It was difficult at best . Sadly never thought l would be standing on the corner witnessing this event . This is for you Ben W. Schaeffer . May your memory be a blessing . I miss you . Thanks for being there pic.twitter.com/W3psxDUPUi

— Amy (@ShopGirl62) May 4, 2023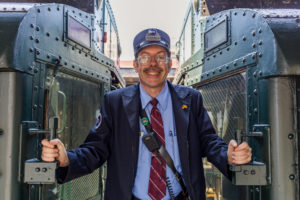 Who was Ben Schaeffer?
Benjamin "Ben" Wolf Schaeffer was an essential worker who lost his life during the early days of the COVID-19 pandemic at age 58, a day after his birthday and just shortly before his planned retirement from the MTA. He lived in Midwood for his entire life and his parents still reside here at the corner suggested for the co-naming.
In Midwood, Ben served in every way he could. He was active at the NYPD 70 Precinct Council Member and as a NYPD Auxiliary Officer as well as a constant presence at Community Board meetings and other local events – all unpaid duties. Professionally, he served as a MTA conductor for over two decades, where he was credited with preventing an act of arson in 2018 after someone began spilling gasoline on his train, quickly ordering an evacuation before the suspect was arrested for which he was awarded the MTA Medal of Excellence. Toward the end of his life, he was elected as Local 100 Vice Chair of RTO with the Transport Workers Union of America (TWU).
According to the former Interim President of the MTA Sarah Feinberg, Ben "showed what it means to be a public servant – most notably putting his own life at risk to ensure the safety of the passengers in his care while evacuating a train car in 2018".
Ben also spent a lot of his personal time on sharing and preserving knowledge about the transit systems around the State. He wrote a book about the New York City subway. Philip M. Goldstein, a contributor of the Trainweb website, wrote that Ben was "not just your average railroad enthusiast" but "one of the foremost historians of rail-marine freight operations in New York City, as well as New York City Transit operations".
It was very difficult to live and be active in Midwood for the past two decades and avoid Ben Schaeffer. At some point, at some event, he would be there and greet you with a smile. His service touched not just the residents of Midwood, but also the riders he saved on the N train and his colleagues he represented at TWU.
When news about his hospitalization became public, his friends and colleagues rushed to donate plasma, but unfortunately he had already been put on a ventilator.
Our city and our neighborhoods are only as great as those who are willing to serve them. Ben was someone who went above and beyond, both as a civil servant but also as a community member. According to TWU Local 100 President Tony Utano, Ben lived the words of the union's founder Mike Quill who said that "you must invest part of yourself" in the union. In reality, Ben did not only invest a part of himself into his Union, but also his lifelong neighborhood of Midwood and protecting those around him.
Ben was an individual who lived and breathed Midwood, New York City, professionalism, his union and who engaged in selfless service before dying suddenly and shockingly during some of the darkest days in our city's modern history. While his death left a large hole in Midwood and beyond, a co-naming provides some level of closure and is appropriate given the unusual extent and nature of Ben's life and service. It also reminds those who knew Ben that his memory and his legacy is not forgotten.
The creator of this website would like to thank the Office of Council Member Inna Vernikov (and in particular Troy Olsen) for bringing this co-naming proposal before the Board and the Council.